Productions
Now Available for Distribution | Films in production | Films in post-production | CD Music | Films in development | Films available to order
Now Available for Distribution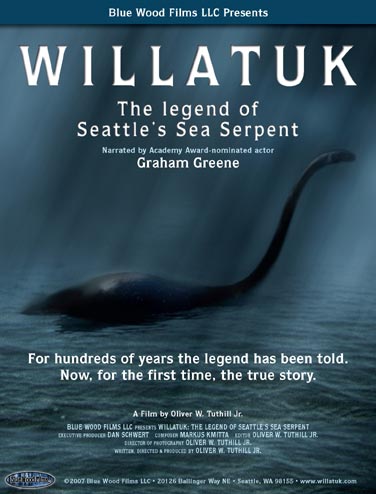 Poster for Willatuk: The Legend of Seattle's Sea Serpent
Willatuk: The Legend of Seattle's Sea Serpent
Rescued from certain death in the great Seattle blizzard and quake of 1736, the Wonkatila Tribe worships the creature as God of Ocean. Now, in present day, crypto-zoologists, tourists, and hunters seek out this amazing animal that is ill from the befouling of the land, ocean and lakes. Will the Wonkatila Tribe save Willatuk from the pollution machines of modern society? Will they save him from the hunter? Will they save him from the crypto-zoologists? Can the Wonkatila Tribe survive? Does Willatuk indeed exist? See the film and learn for yourself. Narrated by Academy Award nominated actor Graham Greene.


Seattle Times article: In Lake Union, a slippery star is born
Visit: Willatuk.com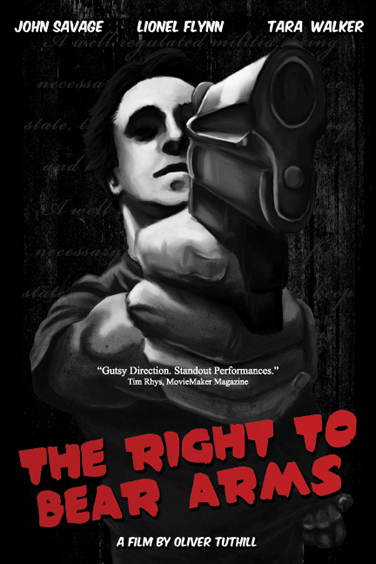 Poster for The Right to Bear Arms
The Right To Bear Arms
Oliver Tuthill's newest feature length film The Right to Bear Arms starring John Savage (The Deer Hunter, Godfather III, Salvador). It tells the story of illegal gun dealers targeting a United States Prosecuting Attorney for assassination. Tara Walker (The Auteur, Cathedral Park, A Star for Rose) also is featured in the role of Willow, a runaway girl who is befriended by the leader (Denitra Henderson) of a gun gang located in Seattle. New comers Lionel Flynn, Kelley McIntire and Rick Walters also have featured roles. Tuthill (Bogie, Dysphoria, Quincy) plays the role of the attorney.

Flynn plays the son of the prosecuting attorney who is battling homicidal impulses and a serious drug problem. Much of his anger is directed at his father who accidentally killed his sister when she was 12 years of age in a gun accident.

Tuthill, who scored the film, feels this feature will resonate with viewers throughout the country. "While we were in the middle of production the Supreme Court ruled on the individual's right to bear arms and the impact of this ruling will be felt for years to come. This is a controversial movie that will upset a lot of people because of the violence, language and sexual content, but it addresses an important issue that touches the lives of all of us."

Visit: RightToBearArms-TheMovie.com
Media Inc. article: Tuthill in Post on Right to Bear Arms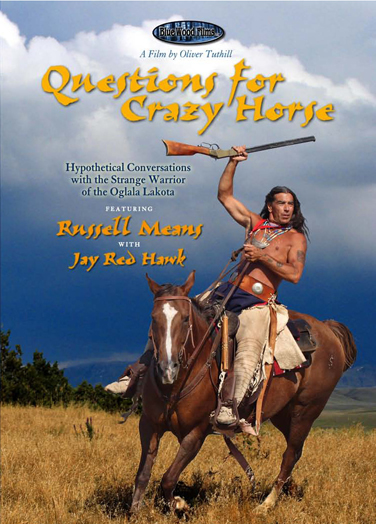 Poster for Questions for Crazy Horse
Questions for Crazy Horse: Hypothetical Conversations with the Strange One
Oliver Tuthill's feature length examination of the myth of one of the most famous Oglala Lakota Sioux warriors of the last two centuries who was assassinated while still in his thirties, never allowed his picture to be taken, and who was never defeated on the battlefield by the United States military. This film takes an introspective look into how American Indians perceive him and what questions they would have for him concerning contemporary problems if he were alive today. The film also features the Crazy Horse Memorial, the largest rock sculpture in the world being constructed in the Black Hills and its creator Korczak Ziolkowski. Features Donovin Sprague Hump, Jay Red Hawk, Junal Gerlach, Moses Brings Plenty and Ed (Eagle Man) McGaa. Narrator to be cast at later date.


2011 Native American Music Award Nominee for Best Musical Soundtrack
Visit: QuestionsForCrazyHorse.com
Media Inc. article: Questions for Crazy Horse Moves into Post-Production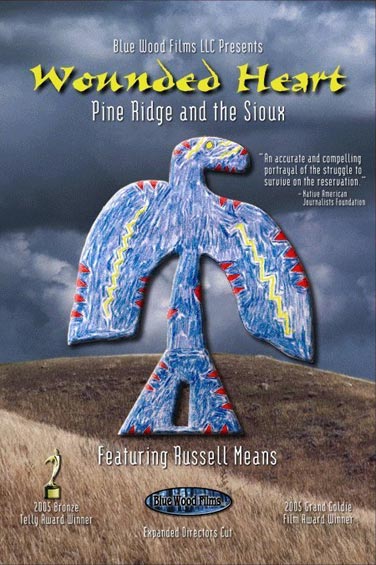 Poster for Wounded Heart: Pine Ridge and the Sioux
Wounded Heart: Pine Ridge and the Sioux
American Indians and government officials discuss poverty, racism, domestic violence, child abuse, inadequate health care, and drug and alcohol problems that besiege the Pine Ridge Indian Reservation in SW South Dakota. Pine Ridge is home to the Lakota Tribe of the Sioux. The Sioux produced some of the greatest North American Indian leaders the world has known including Crazy Horse, Sitting Bull, Red Cloud and Russell Means.


Visit: WoundedHeartFilm.com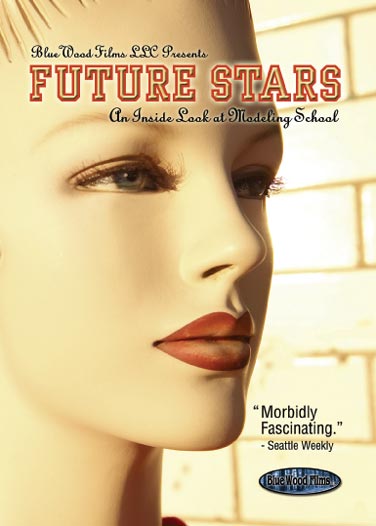 Poster for Future Stars: An Inside Look at Modeling School
Future Stars: An Inside Look at Modeling School
Future stars takes you inside a modeling school and agency where young people aspire to become working models and actors. Hear from young women on why fame is so important and what their deepest dreams are. Be there during classes and lectures. See what a class on improvisation really looks like. Learn what teachers and administrators have to share about becoming a professional model.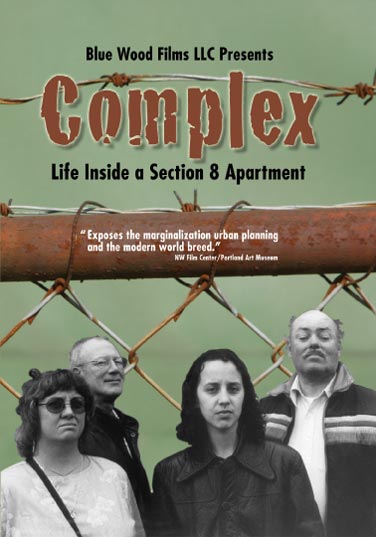 Poster for Complex: Life Inside a Section 8 Apartment
Complex: Life Inside a Section 8 Apartment
Complex is a disturbing look at poor people struggling to survive inside a low rent Section 8 apartment building in Seattle, Washington. Section 8 is the name the government gives to apartment buildings that public assistance will subsidize for those unable to care for themselves.

Inside this complex you will visit residents struggling against poverty, drug addiction, alcoholism, child abuse, prostitution, eviction, and mental illness.
CD Music Album Now Available
Acoustic Concerto
Oliver Tuthill's steel string acoustic folk rock and acoustic pop album of songs vintage 1960s and 1970s now available for films, television, commercials, and radio airplay. Tuthill recorded with rock greats Steppenwolf and John Mayall.
Visit: OliverTuthill.com
Films in Production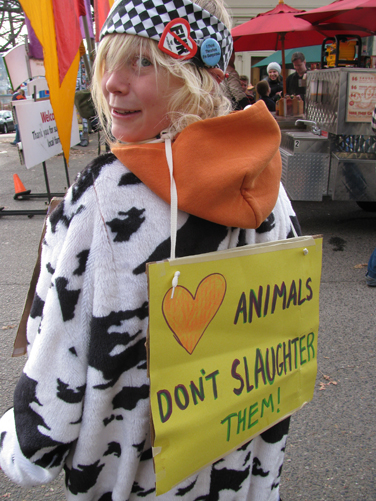 Kitty Jones from The Girl Who Loved Animals
The Girl Who Loved Animals
Award winning filmmaker Oliver Tuthill is now in production on his full length feature documentary on the life and work of animal rights activist Kitty Jones. The working title of the film is The Girl Who Loved Animals. Jones has been profiled in the blogs of The Humane Society, Vegan Score, the ASPCA, and Washingtonians for Humane Farms. She has volunteered over 1000 community service hours and has won the President's Volunteer Service Award. She is the founder and President of her school's Animal Rights Club and has won awards and honors from Rainforest Action Network, Action for Animals and the Humane Society. On the 2011 Washington Farm Animal Cruelty Prevention Initiative 1130, which provides for more cage space for egg laying hens, she collected over 10,000 signatures in favor of the ballot. She believes that the commodification of animals is a root problem in our society today and that all suffering is interconnected. The film will follow Jones while she is at school, volunteering at various organizations and will feature extensive interviews on her beliefs about how our society is designed to exploit animals and the environment. The film is scheduled for completion by the summer of 2012 when Jones graduates from Shorecrest High School in Seattle Washington.


Films in Development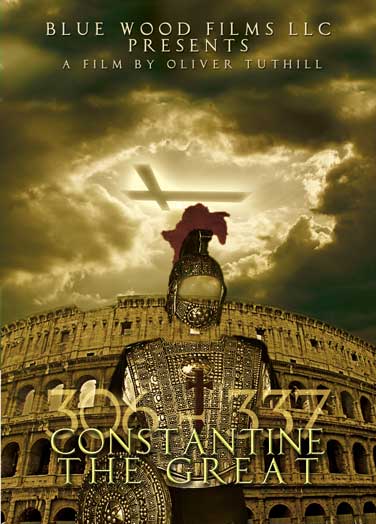 Poster for Constantine the Great
Constantine the Great
Oliver Tuthill's take on the Roman Emperor who saved the Christians from persecution and unified the Roman Empire. He ruled from A.D. 306 to 337. Based on his play The Nightmares of Constantine The Great which he directed and produced at the Erickson Theater off Broadway in Seattle in 2008, Tuthill plans to film the feature like a Shakespearean play. Tuthill refers to such films as Roman Polanski's version of MacBeth, Franco Zeffirelli's Hamlet, and Joseph L. Mankiewicz's Julius Caesar as models for his own production. Tuthill believes there will be a market for the feature in the Christian marketplace. History buffs and educational institutions would also find the film of interest. Tuthill plans on using three to five name actors in supporting roles. Tara Walker (A Star for Rose, The Right to Bear Arms) has been cast in the role as Constantine's sister. Pierre L. Lorillard has signed on as Line Producer. Production set for winter of 2012.


Media Inc. article (PDF): New Film in Development on Christian Roman Emperor.
by Ashley Stone
THE RED CRUCIFIX
A Young woman in search of her missing sister battles a rogue priest in an ancient seminary haunted by the souls of murdered children.
PARAPHOBIA
A young reporter's fear of old age sends him on a quest for a cure only to find that people all around him are dying.
BAD BEHAVIOR
A boy rebels against his parents and soon finds himself in a behavior modification camp in a foreign country.
WHITE CLAY
The President's son is murdered while visiting a friend on the Pine Ridge Indian Reservation.
COLLECTIONS
A college dropout forms a medical collection company and discovers people are being made ill by consuming fruit and vegetables.
THE BLOOD OF OUR FATHERS
The White House goes into crisis mode when the government is hit with a class action lawsuit filed on behalf of descendents of slaves.
THE SIGNATURE
A handwriting expert brought in to find a killer learns the signature he is examining is his own.
BLACK CATS
A young woman, obsessed with rescuing black cats about to be euthanized in animal shelters, learns she is the reincarnation of the Egyptian Cat Goddess Bast.
CABBIE
A day in the life of a Chicago cab driver during the 1969 police riots.
PONY BOY
In 1964 a young cowboy in South Dakota has a vision of the late Indian leader Crazy Horse after he is bitten by a Rattlesnake. This leads to tragic conflict with his family and friends.
CRUDE OIL
An oil tycoon who witnesses civilian deaths in Iraq decides to bankrupt his own company.
PLAYBALL
A strange man moves to a midsize American city that wants to own a major league baseball team and announces he can arrange it if he can be mayor for one day.
HUNTER'S MISSION
A former social worker, who becomes a United States Senator, announces he will seek a bill requiring all parents to be licensed by the Federal Government.
UNEQUAL JUSTICE
A young public defender is shocked to learn that her associates regularly solicit money from poor defendants and their relatives. When she refuses to do the same her life is threatened.
THE PAWN
In 2014 a white heavyweight boxing champion is used as a corporate and political pawn during a violent civil war in the United States.
GHOST HORSE ON FIRE
A white teen-age bull riding champion, badly injured in a championship competition, falls in love with a Sioux Indian girl who nurses him back to health before she is murdered.
THE SPYLIXIS FACTOR
United States Troops are called in as a deadly virus decimates the country.
"He has set high standards in the film industry with his work on social justice issues and Native Americans. It is my honor to present him with the 2003 Horace Mann Award."

— Tullisse Murdock

President
Antioch University
Seattle
"People ask me if they should invest in Oliver's films, and I tell them I have because I believe in him."

— Paul Schaber

President
The Management
Trust
"He listens to you and your ideas. He really cares about everybody he is working with as well as the project."

— Tasha Lea Smith

Actress
"A great Cinematographer. A great Director. A great Storyteller."

— Jay Red Hawk

Actor